The world didn't need another law firm when we started ours in 2018; it needed a better one. Part of that was easy. As a firm that is majority-owned by women, we knew it was essential to balance plaintiff- and defense-side work, to represent top companies as well as the public interest, and to develop an unbiased approach to hiring, training, and promotion of our exceptional attorneys.
The hard part was getting here.
For years, we've heard the same statistics that you probably have – about how less than a fifth of law firm partners are women; about women and men that enter law firms at the same rates, but are disproportionately male by the time partnership decisions are made; about the classic "bait-and-switch" of pitching a diverse team, but delivering a homogenous one. Nevertheless, we persisted.
We fully believe that clients want to hire diverse teams, but don't want their choice to be perceived as a risk by a board or its shareholders.
Because it shouldn't be a risk to do better.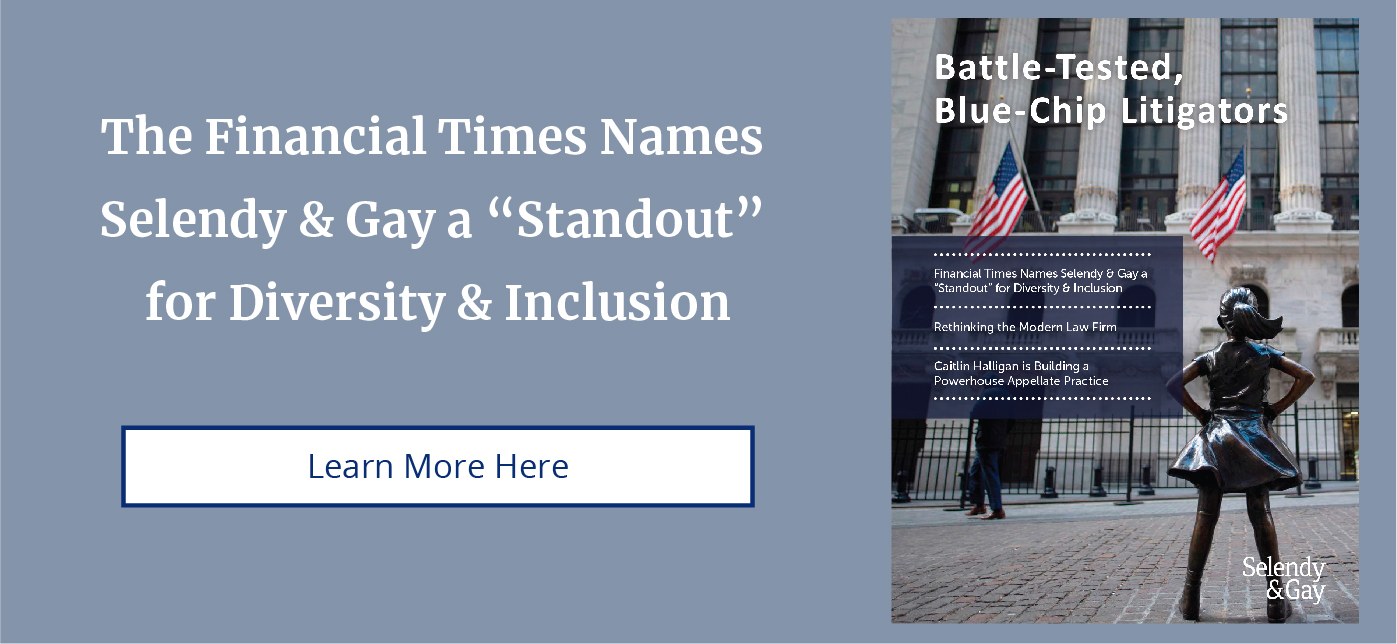 Many law firms are dedicated to diversity and inclusion. Selendy & Gay goes beyond simply dedication; we constantly strive to ensure that people of all backgrounds feel a sense of belonging to the community we're creating together.

In the last major study of law firm partnerships, women comprised only 19% of BigLaw equity partners, as compared to 50% at Selendy & Gay. We've been recognized by Bloomberg Law, the Financial Times, Chambers and Partners, and Law360's Glass Ceiling Report for our gender-balanced firm.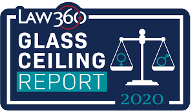 Selendy & Gay was named a "Ceiling Smasher" by Law360 — a listing of the top 10 law firms that are outpacing their peers as the legal industry works to close the gender gap in its partnership ranks.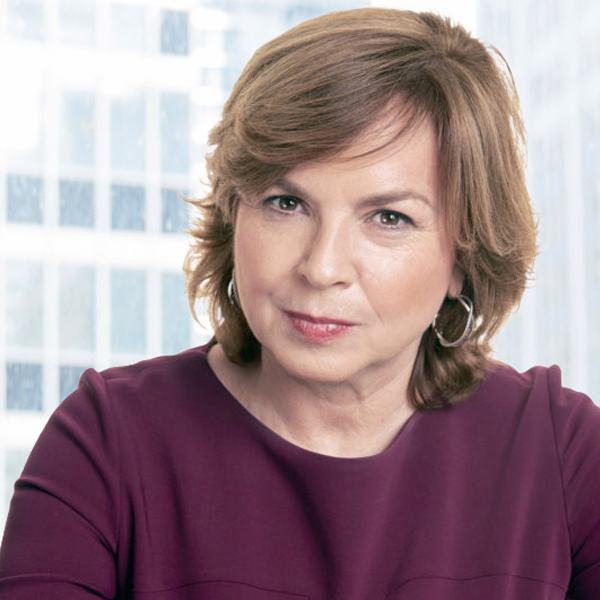 "We wanted to work someplace that looks like us. The world is diverse. Clients and jury pools are diverse. We recognized there was a real opportunity to reimagine how law firms work, and to bring about the best possible result we would need to draw from a diverse set of minds and experiences."
– Faith Gay
Only 24.2% of associates in BigLaw identify as people of color, coupled with even bleaker partnership statistics. As partners to the Leadership Council on Legal Diversity, outspoken advocates of social justice, and frequent panelists on law firm diversity, we know that developing a pipeline of racially diverse partners begins with establishing a pipeline of well-trained and well-supported associates of all backgrounds. We are meeting the moment with training that encompasses all levels of the attorney lifecycle and spectrum – from legal skills and business development training, to uncovering implicit bias and active allyship.

In shortlisting us for 2020's Inclusive Firm of the Year and Outstanding Firm for Furthering Diversity and Inclusion, Chambers praised our work increasing opportunities for women, LGBTQ and attorneys of color.
"I chose Selendy & Gay because I wanted to practice at a litigation shop that takes on difficult legal issues, and is always prepared to litigate to the fullest extent necessary for its clients. I also wanted a high level of responsibility and meaningful experience as early as possible in my career. The firm has delivered on all fronts."
– Jordan Weatherwax
Only 2.9% of attorneys identify as LGBTQ in BigLaw firms, as compared to over 17% at Selendy & Gay. At the heart of our egalitarian community is our shared commitment – across all identities – to represent diversity at every level of our firm.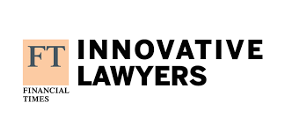 The Financial Times named Selendy & Gay a "standout" in diversity and inclusion, praising our wide-ranging D&I initiatives, including "blind recruitment, allowing associates to opt in to work on cases and comprehensive training to help it achieve its aim to be diverse and inclusive."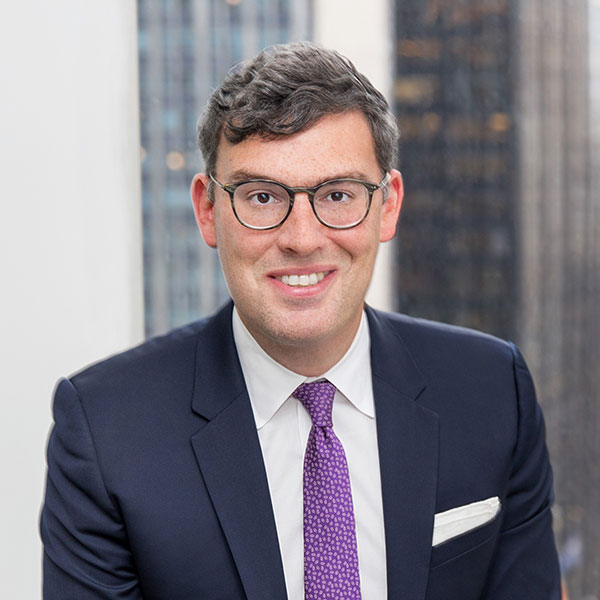 "Understanding that law firms are notoriously slow to change, the firm formed with the intention of shifting the law firm paradigm, by not only retaining top-flight women and men, but also training the next generation in a way that would also disrupt the long-standing obstacles that have suppressed the advancement, promotion and mentoring of women and diverse attorneys."
– David Flugman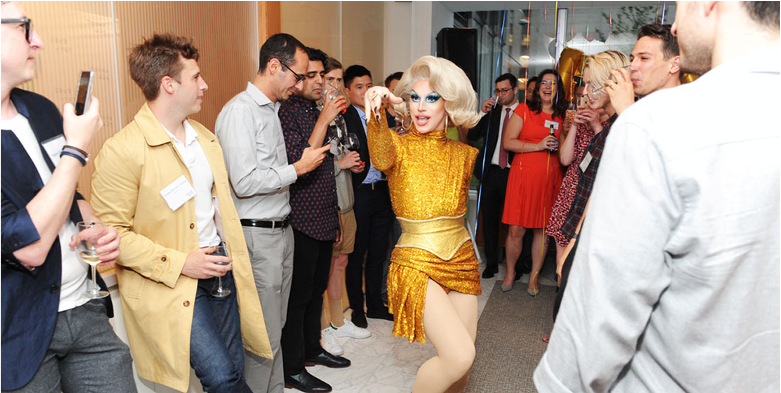 In honor of WorldPride and the 50th Anniversary of the Stonewall Rebellion, Selendy & Gay hosted clients, friends and allies in celebration of LGBTQ history. The event featured a special performance by Aquaria, winner of RuPaul's Drag Race.
While we work to build an inclusive environment in our office, we know that the world is bigger than our firm. It's why our partners and associates are committed to causes that build a more open, diverse society. Some of the organizations with which our attorneys partner include:
National Center for Lesbian Rights
American Civil Liberties Union
New York Civil Liberties Union
Lambda Legal
National Center for Law & Economic Justice
Equal Justice Works
American Immigration Representation Project
The National Center of Access to Justice
Her Justice
NYU Center of Civil Justice
The National Center of Access to Justice
Big Brothers Big Sisters of NYC